How to create an amazing
Employee Experience
Learn more
"The greatest social challenge of our time is an ageing population"
This is quite a heavy topic for my first Made by Many blog post. That unforgettable quote came from Royal Voluntary Service CEO, David McCullough during a recent visit to the Made by Many studio. He was one of twenty people we talked to in order to better understand the complex issues surrounding the elderly.
This was something quite a few of us felt passionate about. Some of us have past experience either volunteering or working in the public and private sector but even more of us have parents or grandparents creeping towards inexorable decline. We inevitably found ourselves approaching the topic with two hats on: as optimistic innovators, eager to find out if any of the skills we possess could add value to the situation. But also as human beings, humbled by the scale of the problems and current efforts, and aware that we wouldn't solve anything overnight. But doing something would be infinitely better than doing nothing.
Acknowledging the size of this landscape, we decided to focus specifically on the lonely and isolated. Partly, because as a company that develops human-centred digital products, we felt that connective technologies could be such an enabler in this space. Partly because of the shockingly pernicious effects of loneliness and isolation on the sufferer's physical and mental health (the equivalent of smoking 15 cigarettes a day). And finally because not only is this a terrible social issue but it carries heavy consequences for our groaning, creaking public healthcare system.
There were three big insights that emerged:
We cast our net reasonably wide, speaking to people ranging from volunteers and informal carers to social entrepreneurs and postmen to A&E consultants and GPs. Perhaps unsurprisingly, there was a void in our fieldwork created by the very people we were trying to learn about – the lonely and isolated – but that in itself reinforced something we learned from several sources: No one is in a rush to self-identify with being lonely and isolated - there's a stigma attached to it. People would sooner admit to being depressed than badge their vulnerability. When speaking to the owners and founders of the many amazing initiatives out there such as Stepney City Farm and the Nana Café and Good Gym, we learned that one of the toughest challenges is reaching the people who are most isolated. Often, there's a surfeit of volunteers but a largely hidden population of lonely senior citizens. The need exists, but providing help is reliant on that need being acknowledged by all parties.
2. 'Emergency help' is costly
One of the interviews that most profoundly influenced me - and where the fracture lines turn into chasms - is A&E. Many of the elderly turn to the emergency services as a cry for help or as a way to alleviate boredom. These people are known as the 'A&E regulars' – maybe a loo door wouldn't open, or the loneliness became too oppressive. In some ways, those that enter A&E with physical damage are more straightforward than those suffering from mental health issues but the very worst bit of all, regardless of the reason for entering the hospital, is that the elderly can die from infections in hospital beds whilst the cogs of bureaucracy make slow revolutions.
And why is it so laborious? Mainly it comes down to communication. In the Care of the Elderly Team, it might be the occupational therapist that can't assess the state of someone's home for another four days or it's simply impossible to gather the right people together to make important decisions such as the occupational therapist, the social worker, the family and the GP amongst others. Of course, this is a notoriously tricky area largely because of privacy issues around patient records but it works on a regional level for psychiatry so what might we learn from this?
How can we facilitate a call for help before the call to the emergency services? How can help be provided quickly and without the burden of bureaucracy?
3. People want to be needed, not needy
When one's sense of purpose diminishes, so does the appetite for living. We heard this repeatedly - that becoming frail and infirm curtails even the most mundane employment and sends our ageing person hurtling towards ill health and depression. We heard about a 92 year old breaking his wrist, no longer able to play golf and eventually passing away in a care home with dementia a couple of years later. And we were warmed by the story of a 'technophobe' grandfather who transformed himself into an online researcher when his granddaughter needed his help. The science speaks to this quite clearly especially in the context of retirement. Whilst there are a number of great businesses and initiatives out there that look at preserving this sense of purpose (School in the Cloud, Encore.org) it feels like we need a more fundamental shift in attitude. We tend to see the elderly as needy, and volunteering as a gift or sacrifice from us. But what if what they need is to be needed? What if it's them that want to give and us that need to make this easier for them?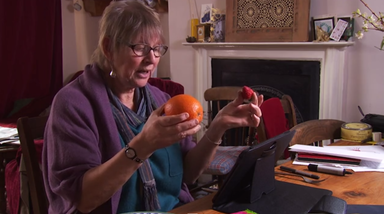 A 'School in the Cloud' granny Skyping with school children in India.
This piece of work has made us think long and hard. About complex problems that are bigger than all of us. About the incredible efforts and innovations that already exist beyond the confines of this small project. Made by Many is not going to solve these things but we can certainly make our own contribution, even if a lot of the challenges around this subject may not be successfully addressed in our lifetime.
Here's what we're doing next:
We don't want to lose momentum. Next week, we're continuing the work we've started by doing some deeper dives into the three areas we've identified above.
Acknowledging the scale and complexity of these challenges, we've also started conversations with potential partners and organisations whom we can both learn from and possibly work with.
And this isn't just a 'work' thing. It's something that touched us all personally. We're hosting a tea party for the elderly through the charity Contact the Elderly, which we're hugely excited about not least because we are looking forward to meeting some fascinating people. Hopefully, this will be a regular event. It's only a small step but we need to start somewhere…
We'll continue to post the things we learn and experiment with and would love to hear from other people who are active in this space too. It's things like this that remind us we are all part of something much bigger – something that is both inspiring and frightening. I, for one, want to start putting more back into it, because let's face it, time will make elders of us all.
My thanks to Andy Whitlock for helping to synthesise and edit these thoughts.
Sign up to our newsletter